SS22 BCEFW
The Spring Summer 2022 collection as in the previous Fall season of Kata Szegedi, the designers use custom digital prints as a main force. The print made from an image shot by photographer Gergő Pejkó, captured our statement cut-out golden pants during the first lockdown, appears in several colour options, in sheer and heavy materials giving an interesting layering to the garments.
The lines, patterns were inspired by a Spanish painter-sculptor, Pablo Palazuelo's artwork. Strict and softer lines chase each other constantly, his vision was very close to the brand's idea how to reinvent the looks for the upcoming year.
Moving sculptures were created again, with the statement layering, the cut-outs, and the soft blue colour palette - sky blue, klein blue - with a touch of white, OBJECTS OF DESIRE.
Some of the most iconic and recognizable statements were re-invented from the past years just as in our Spring Summer 2022 collection. It is a new era for the brand, focusing more on developing fresh, unique textures and silhouettes with a very strong focus on sustainability.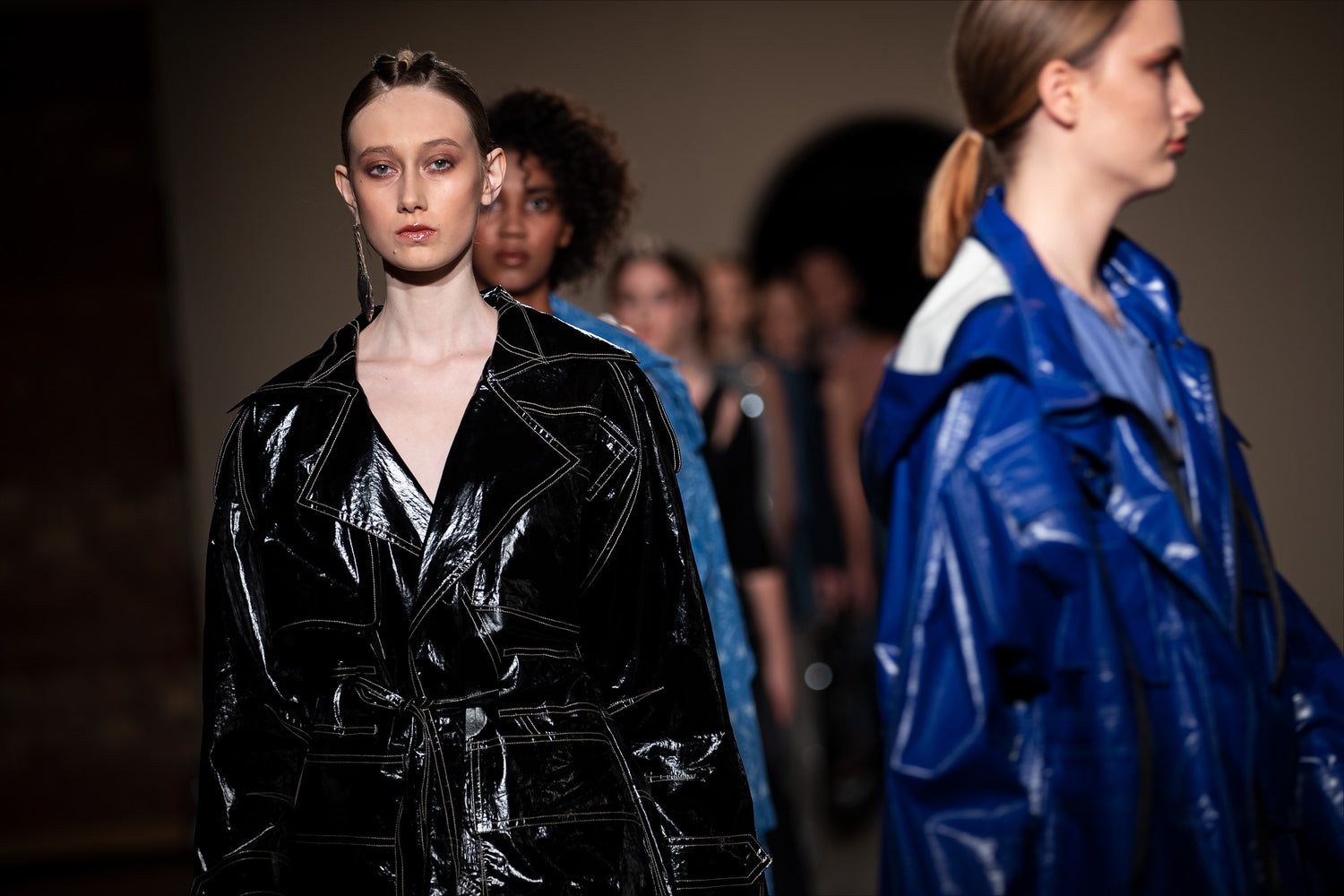 Permanent collaboration according to jewellery with Agoston Balazs Hungarian designer, we share the same vision when it comes to powerful looks and feels, his 3D print designs put into silver are a perfect match, adding a cutting edge style.
The pieces stimulate the eyes, they carry strength and coolness, with sharp silhouettes inspired by the 80s. With boyish features, the clothes make the Kata Szegedi muse confident yet effortless at the same time.
Collaborating, sharing ideas, filtering in new experiences into the designing process is always a must for the designer duo, they are endlessly proud of Levi's x Kata Szegedi project. Levi's for many generations means quality, forward thinking mixed with coolness in everyday wear, Kata and Dani also share love for music as well, every runway show has it's on unique mix created by the visionary Akos Vereczkey - Akos V, these dominating sounds are giving another point to the story which is told on the catwalk, a story about freedom and power.
The two denim looks are in the second part of the collection, as a progressive end of the show, using our signature Roads pants as a canvas, all the differently cut piece of upcycled jeans, every small item has a place, zero waste effect comes out on this very sculpturesque form. The womens and mens looks are very connected to each other, an experiment with different tones and lines, a sharp end and a sign of a very new beginning.